Custom Designed Furniture-
Handmade Furniture? Of course all of our furniture here at Schanz Furniture is "handmade furniture".   We have a variety of pieces that we typically make and have available in our showroom but often times customers come to us wanting something a little different.  Perhaps they have seen something they like but wish it to be constructed out of solid wood vs. typical furniture grade materials offered by a big box store. Perhaps they have a need for a piece to be designed with particular dimensions or serve a functional purpose that they can not find elsewhere.  We could go on and on about the multiple reasons people have chosen us to custom build furniture for them.  So we are currently working on a page devoted to our custom designed furniture.  Our desire is for this page to be able to showcase some of the varieties of "handmade furniture" that we can custom build for you.  We are by no means able to showcase everything but we are hoping this will give our customers an idea of our abilities.  Please keep checking back for details and updated pictures!  In the meantime here is a testimonial from one of our customers as well as a few pictures of custom pieces.
"We could not be happier with our decision to utilize Schanz Furniture for all of our home furnishing needs. After visiting their shop in the 1980's, we were so pleased with the quality of the furniture on display that we made our first purchase. Through the years we have repeatedly worked with the Schanz's to design everything from bedroom suites to custom living room and dining room furniture. Each unique piece is not only a beautiful and functional addition to our home, the incredible craftsmanship has created heirlooms we can proudly pass along to future generations. Whether you have a treasured heirloom of your own that you want restored or you are looking for something new, we highly recommend the Schanz Furniture and Refinishing business for their superior workmanship and artistry."
Steven and Paula
Idaho
Below are a few pictures of what we have done for various customers throughout the years!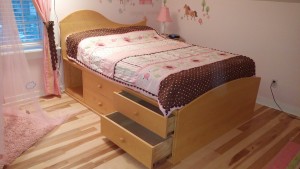 Olivia Bed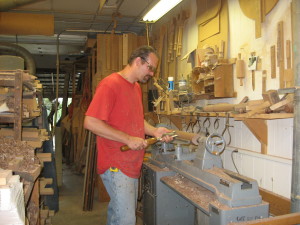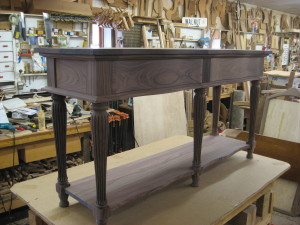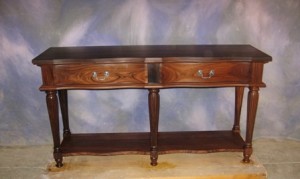 Brazilian Rosewood Sofa Table finished